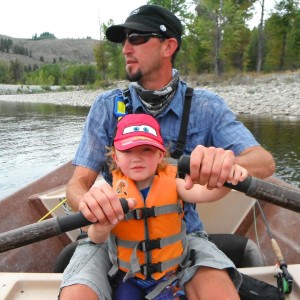 Hello there, to all of you I know and those I have yet to meet. My name is Leaf Seaburg I have been fishing the river for more than 30 years now, I was born and raised here in the Methow Valley. After attending Bellingham Tech I received my A.A. in Applied Science and have worked as a Fish Culturist for the WDFW in Winthrop for 10 yrs. I live here with my wife Erin and two boys Leo and Finley.  You can catch my Fish Report on 97.5 KTRT mornings and afternoons or check out current and past reports here or at www.radioroot.com. After spending many years showing friends and relatives the ins and outs of fishing the Methow and surrounding area I decided to take up Guiding Professionally. I have been a fishing guide for five years now and am happy to announce the opening of my new service Methow Fishing Adventures.
At Methow Fishing Adventures we provide not only the irreplaceable knowledge of someone with an intimate level of experience and an unmatched enthusiasm to show you and your party what the Methow experience is all about. We provide access to the Methow River its tributaries the Twisp and Chewuch as well as the Methow's many amazing lowland lakes. To book trips give us a call at (509)429-7298or just email us and we'll get back to you and get you out on the water!
Oh and as well just as be for you can look forward to a regular fishing report here as too, updated all through-out the week. So stay in touch, stay well and Fish On!
Leaf