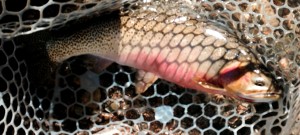 This has been a year of flux in every way in most every system. If not by way of natural disaster (fire, wind and floods) then by way of drought. Not only across the state but all across the west people are feeling the effects of climate change. Here on the Methow we are pretty used to conditions always changing and we have learned to roll with the punches.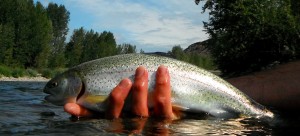 Right now fishing has been great thanks to cooling temps just in the nick of time. I'm not saying it's easy but if you know where to look and how, there can be huge rewards. Right now it's hopper time for sure and if the hoppers are not warm and flying then the big fish will be waiting until they are. For that matter I would call peak time at about 10am until dark now that water temps have cooled.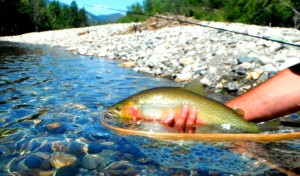 As I said before though, we all must be flexible; by the time you read this report the temps may be warming which could change things. The main thing to remember is Fish where there's Fish! Don't waste time on slow clear water. Look for well oxygenated water (may be inches deep) or structure in at least 3 to 4 feet of water.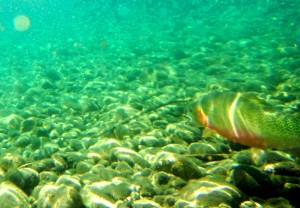 I am focusing most on hoppers and golden stone patterns dry you may catch other fish other ways but if you want big cuts this is the way to go. Although we lost some fish in the flood sections of the river last year I am still seeing and hearing reports of good trout all throughout the system. Water is low so walk and wade is recommended.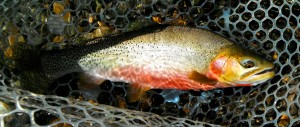 If you are interested in booking a trip or just need some tips just drop a line on the Guides page or give a call at (509) 429-7298. Take care and Fish on Yawl!!!