It was 6:30am CP and I had gotten on the road close to on time and we were on our way. CP excited to break in his new Clack as well pretty stoked at the chance to catch his first Lohontan Cutthroat. I was excited not only to get CP into his first big Lahontan but also to show him the stark splendor and beauty of Omak Lake. If you've never seen Omak Lake I recommend it just for the scenery, looking like something out of the southwest or Jurassic times long ago it is like nothing else around.
Each year I look forward to the first couple of weeks in April when pods of huge trout cruise in sometimes less than a foot of water. If the eye candy isn't enough the fishing will be, which CP soon found out.
One might think it easy to catch prey so close at hand and some days it can be but much of the time the keen eye and smarts of this wily old trout can add just enough challenge to keep you guessing and trying for the next one.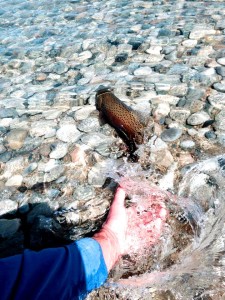 Upon arriving at the lake we could see a few packs of two and three fish cruising close to shore. We launched the boat and soon I had my first fish on a size 14 Pheasant tail, the pretty 20 inch female shook loose next to the boat but not before CP and I had a chance to admire her. I turned to CP and said something about how easy it should be, which is always a bad idea. We rowed for the next hour not seeing many fish and spooking the one we did see. After a while I suggested we start back where we had first seen fish so we back-tracked finding fish where they had been at the beginning of the day.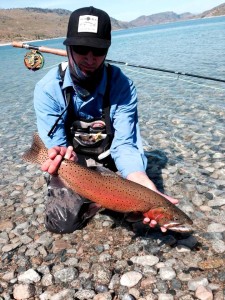 It was at this point that we switched tactics and started moving on foot up and down the beach stalking packs of fish by eye. Many times I go to Omak Lk. With a plan and often times it changes but if you are flex-able often you will be rewarded. With fish being to spooked by the cast but in such shallow water I decided to put on an indicator and dropped a chironomid just eight inches under, it was an automatic success. I had four nice fish to hand in minutes, so I told CP he should try that too and as if there had been a meeting of the fish, somehow they all new bout the short set chironomid and the bite was off again.
Frustrated I said to CP "Try a dry instead of the indicator" I could see fish eating mayfly on the surface and thought maybe they would hit the dry or at very least think it was not an indicator. It didn't take long at all for a big buck to smash CP's dry fly! After a long fight CP brought the big cutthroat to my net, it was his first, it was big and it was on the dry, we were stoked.
After that I changed to the dry and a dropper combo and had the very next fish pass it up only to turn back and sip it down, to which I promptly set to early and lost quickly but it was fun anyway. We caught many great fish that day and as always Omak Lake taught me a few lessons and rewarded me with a few more great memories.