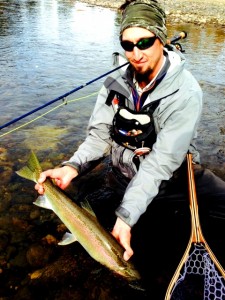 Has fishing been good lately? Uhm no…fishing has been outlandishly outstanding that's all. Yes there is mud and there is debris through-out the river from Beaver Cr. Down but fishing has remained unfazed and some would say better than average. Whether it's the rain making fish move or just the lack of food in the lower section is uncertain, what I do know is fish are wasting no time moving up which has spread them through-out the system quickly leading to great fishing in all parts of the river.
Skating has been great and is now shifting to a small bug seen, like the drakes in a 12. Swinging, productive as always and nymphing as always at this time of the year is all about the egg/stone combo as many summers are still attempting to drop their eggs even in pour spawning sub-straight choked by mud.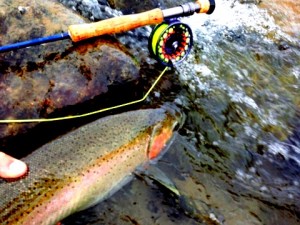 Coho season remains open through November 30th with many nice fish being taken still as a bi-catch in a good day of steelheading. Steelhead will remain open through March unless otherwise informed. If you are interested in booking a trip or just need some tips feel free to drop us a line, enjoy the fall and Fish On Yawl!